Online marketplaces are run by their own algorithms that decide the position of the products. This means that it can be very different from the Google search algorithm but it also contains some elements of SEO including content, title, and search terms along with keywords.
The placement of product listings can be managed by the online eCommerce platform websites since they have their individual algorithms.
This article discusses the complete Walmart SEO Guide as well as the rules, the Walmart algorithm, and the policies helping you to grow your business on Walmart.
Ranking Organically on Walmart
Every seller wishes to get the top spot but there is only one who gets to be there. If you are confused about why this happens or what the top sellers do, you need to understand how the Walmart algorithm works.
Although the knowledge about Walmart's algorithm is very limited, there are some rules and guidelines that can help sellers make their mark and outsmart the competition.
Algorithms are key to any eCommerce platform hence they are kept confidential. You can, however, use the algorithm to your advantage if you optimize your listings properly and experiment with different strategies.
Walmart has no clear instructions or guidelines about their algorithm and whatever is known to date is due to the personal experience of sellers or expert opinions of some professionals in the business. Thus, it would be safe to say that there is no manual and no one knows the accurate working of the algorithm.
Walmart has, however, provided some guidelines that sellers should keep in mind before publishing their listings. These guidelines can play a key role in improving the organic ranking of your listings.
Walmart Product Ranking
The Walmart product ranking refers to the ranking of your listing in customer searches. The Walmart algorithm is designed in such a way that it will show listings that have higher traffic and generate more sales.
This means that you need to grab customer attention to improve your listing ranking. You can do so with the right use of SEO tools and keyword research that makes your listing easier to be found (increased visibility).
SEO
Search Engine Optimization (SEO) is the process that is used to optimize your listings, in terms of keywords and content relevance, to improve visibility and increase organic ranking in customer searches.
Walmart SEO
Walmart SEO deals with optimizing your listing in a manner that coincides with the Walmart algorithm to boost your listing ranking and brand visibility. Simply said, you are making your listing more appealing to the algorithm by optimizing it. Your listing will progressively get better with each little thing you do, such as creating a catchy title, selecting an excellent image, or outlining the benefits in bullet points.
Each of these factors aids Walmart's algorithm in identifying your offering, and if it deems it appropriate, it ranks it at the top, giving you the opportunity to win the coveted "Buy Box".
If you are listed at the top of the search results for the term you selected, your optimization efforts, provided you have added a few other selling elements, have been successful.
Improving Walmart SEO
To improve your Walmart SEO, you need a plan and properly incorporate keywords into your listing. This will improve your organic ranking and help you boost your sales volume. Following are a few steps that can help you improve your Walmart SEO:
Mapping your products to the right attributes and category
Creating a succinct product name
Uploading at least four images
Using keywords with high search volume (be sure to incorporate them naturally so the listing may not appear to be stuffed)
Providing clear and detailed product descriptions
Offering the best landing prices possible
How to Research Keywords
Searching and identifying keywords is very crucial and important. This helps you to identify keywords with high search volume allowing you to incorporate them into your listing to make your listing easily findable and appear higher in customer searches.
Although the process of keyword research might be tiring, you can use the Walmart KW research tool to help you.
Walmart KW Research Tool
Do some audience research to find the words they use to describe your items. Look up the words they frequently use in blog posts, comments, forums, social media groups, and even in your support queries to see whether they are relevant. Find out which search phrases are currently being used. To find out what search phrases customers use to find your product listings, you can do this using analytics tools.
Using a keyword research tool, which asks you to enter a keyword and then displays a list of probable long-tail and short-tail keywords, you can obtain recommendations. You do not have to use these tools every term, but you may test them out with crucial ones to make sure you do not miss any opportunities.
With the help of this tool, you may further filter and limit the terms that are appropriate based on the characteristics of your target audience. To provide you with keywords that a certain audience uses more frequently, tools would have sophisticated options and filters.
Once you are done collecting keywords, download the list from the tool. Now, you would need to refine your keyword list further to identify the best keywords.
Improving Your Listing Ranking on Walmart
Sellers must understand that just listing their products on Walmart is not sufficient enough. They ought to try their best to improve their listing ranking. The big question here is; how to rank your listings on Walmart? The answer is quite simple i.e., by using the right SEO practices and optimizing your listing properly.
As you optimize your listings, you will see a significant improvement in the ranks as well, and when you are ranked first in the search results, you will finally be awarded the buy box.
You must be knowledgeable about Walmart SEO in order to complete all of those tasks. As previously stated, it is crucial to help customers find your goods when they use the search box on Walmart to look for a particular phrase, search term, query, or product.
Walmart has set out some guidelines that, when followed, can yield very positive results concerning your listing ranking and product listing optimization.
How to Improve Product Listing Quality at Walmart?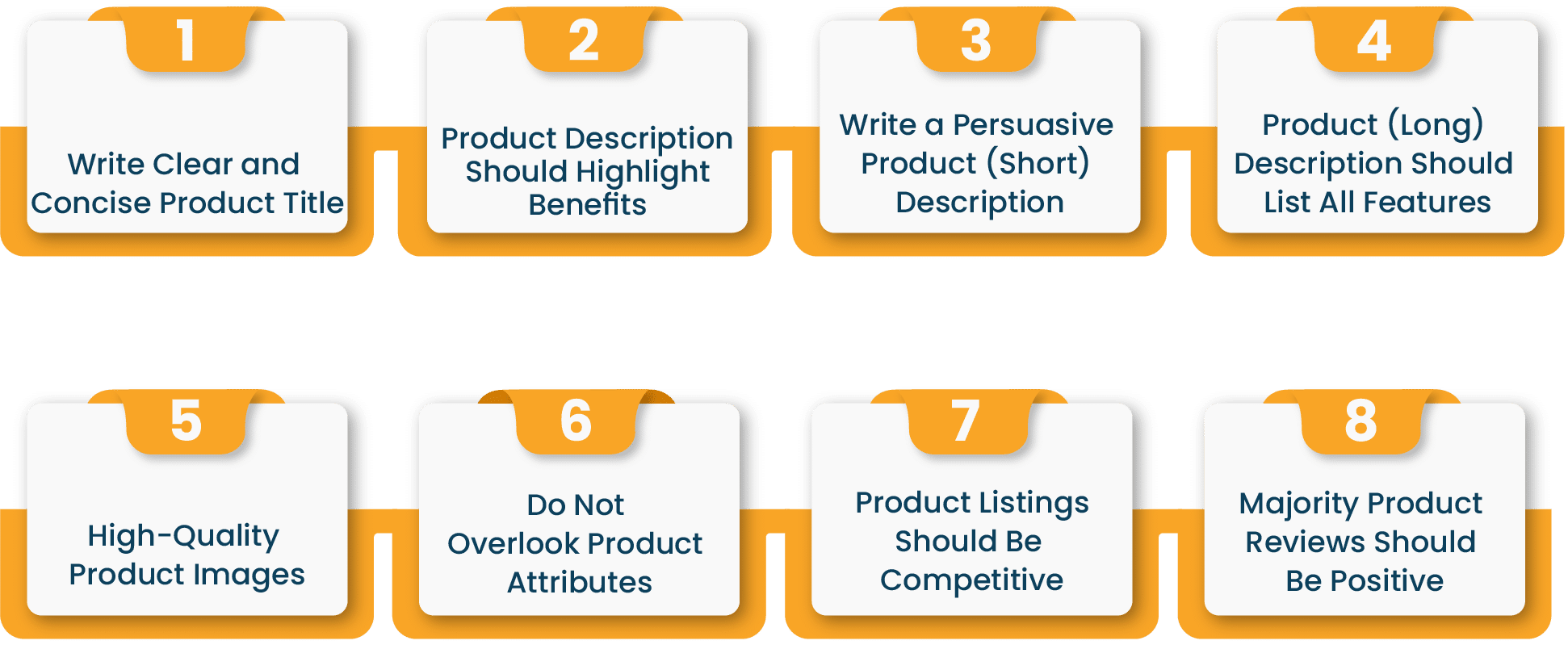 Write Clear and Concise Product Title
Always make sure that your product tile is concise and clear i.e., 50-75 characters in length. This guarantees flawless readability and complete completion of the listing portion. If the product title is longer than this limit, it may not appear higher in the customer search results.
Yes, given that Walmart is so precise about the product information they want to display to their clients, the word count is too low. Make sure the title is compelling enough for the purchasers and include prospective keywords in order to keep it concise and innovative.
Here are a few guidelines:
Keep your product title within 50-75 characters and try not to exceed the limit.
Name your products creatively i.e., come up with names that are not used by other sellers. A unique product name will improve your listing ranking.
Avoid using special characters such as @, ½, *, etc.
Integrate a few good attributes of your product in the listing title. This will grab customer attention and will also improve traffic.
Try to use primary keywords for the product that you are selling.
Try to highlight the main feature of your product in the listing title.
Avoid incorporating the feature if your product has different variants.
Product Description Should Highlight Benefits
The three key benefits of the product are allowed by Walmart to be listed in this section, which is more akin to a "highlight part" of the product. Therefore, it is suggested that you use appropriate keywords here.
This is where you can play if you forgot to include keywords in the title. But be specific and avoid overusing the keywords. A customer must find it rich and natural to read it.
List around 3-5 key benefits that your product offers. Mention them in the form of bullet points.
Try to incorporate at least 1-2 keywords.
Add specific product information to make your listing understandable.
Make every bullet point as simple and precise as possible.
Avoid repetition of points as well as redundancy.
Avoid writing meaningless information.
Optimal use of keywords is advised, however, do not stuff them too much.
Write clearly and avoid grammatical mistakes.
Write a Persuasive Product (Short) Description
Anything that comes either above or below the "shelf description" is referred to as a "short description." It is typically a brief text of 8–10 words (or 500–1000 characters) in length that describes the item in a more alluring way.
To beat out your rivals, it is critical to make the most of this area. With a large word count, you have the chance to create a well-written, keyword-rich description that customers are most likely to search for:
Be sure to incorporate your brand name, name of the product, and potential keywords having good search volume.
Win customer trust and keep it conversational.
Briefly define the features of your product in about 8-10 sentences.
Avoid spelling or grammatical mistakes.
Use simple language to make your listings understandable.
Use relevant keywords with high search volumes that shoppers are highly likely to search for.
Write the description in paragraph form containing at least 150 words.
Make sure that your product description is not plagiarized from any other website.
Keep it unique and appealing.
Create value for your customers and keep descriptions useful for them.
Mention key terms that shoppers search for.
Keep the description clear and concise and avoid repetition.
Since you are guiding customers through the purchasing process, demonstrate your expertise through advice and data. When writing, be straightforward and conversational.
Product (Long) Description Should List All Features
In-depth product descriptions may be found in this part, which is also crucial for a product listing. You are free to write a list or a paragraph that is between 250 and 300 words long. This is a generous number that you can utilize to your advantage by providing some advice or information about your product to demonstrate your expertise.
Limit this section to about 250-300 words.
List all the key features and benefits the product offers.
Use synonyms for the product (if any)
Incorporate keywords but make sure it sounds natural
A lengthy description might not engage the buyers well
Avoid grammatical and spelling mistakes
Write in the form of bullets
Provide qualitative information such as facts and figures about the product
High-Quality Product Images
Pictures are crucial especially for eCommerce platforms where around 50% of the buying decisions rely on product images. Because of this, maintaining very high-quality photos is even more important. Including eye-catching, high-quality photos helps the goods appear real. Because a customer cannot touch or feel your product, it is much more crucial to maintain an appealing picture to encourage a purchase. To enhance conversion rates, it is essential to include more than 3 photographs of the product in addition to maintaining a high-quality product image. Additionally, this helps the consumer understand what to expect from the item before making a purchase.
Use high-quality, professionally-lit, well-focused, and photographed images to attract customer attention.
Use high-resolution images
Avoid using boundaries for pictures
Includes images showing different angles of the product
Avoid placeholder images
Images should not contain accessories that you will not offer with the product
Images should be as per the Terms and Standards set by Walmart
Avoid using images with illustrations, logos, or animations
Use white (RGB: 255/255/255) background for images
Do Not Overlook Product Attributes
When looking for a specific item at Walmart, product attributes are displayed on the left. About 24 distinct product categories are available on the market for you to specify the characteristics of your product.
Given that these traits may be filtered, this information is quite beneficial for buyers. Customers will only be able to view your goods in the filtered or narrowed results if you have mentioned the key term as an attribute.
Given that these traits may be filtered, this information is quite beneficial for buyers. Customers will only be able to view your goods in the filtered or narrowed results if you have mentioned the key term as an attribute.
Product Listings Should Be Competitive
The most important aspect that determines whether a product should be listed at the top or not after you have presented it using all the main factors described above is "price."
It aids in maximizing sales and winning the buy box. Download the inventory report frequently and compare the price you have offered to the Walmart buy box winners to gain a better understanding of your product portfolio (or your competitors).
With the use of this information, you may assess your position in relation to the competition and the potential performance of your product.
Majority Product Reviews Should Be Positive
Last but not least, rankings also heavily factor in consumer reviews. They really have the power to build or break your company. Positive reviews are essential for establishing the reliability of your product and can help you rank higher.
Request reviews from your customers for your products on your product page. Additionally, get in touch with dissatisfied clients to resolve their issues. Making sure that the goods is delivered on time or significantly sooner than what has been advertised is a terrific method to keep your consumers happy and satisfied. Poor ratings for your goods due to delayed arrival might harm your brand's reputation as a whole.
Why Choose XpertVA?
Dealing with Walmart and complying with all the business requirements can sometimes be more hectic. Our experts have a decade-long experience and are well-updated pertaining to Walmart requirements and guidelines. This allows us to better guide you and steer your business toward success.
Conclusion
Higher product rankings ensure increased shopper conversion and higher sales revenue. The organic ranking of your products relies on the way it is described or presented to the customers. Be sure to use clear descriptions and ensure that the overall listing is in accordance with Walmart guidelines.
Frequently Asked Questions
How can I improve my Walmart listing?
You should be aware of these four elements: Content & Discoverability, Offer, Ratings & Reviews, and Post-Purchase Quality, in order to optimize your listings for optimum impact. You boost your chances of making a sale by optimizing for these elements and making your listing more visible.
What are the 3 C's of SEO?
The 3 C's of SEO are content, code, and credibility.
What are the 4 stages of SEO?
The first step is to get your technical right followed by finding the right keywords to target. Next, create an optimized listing and build links to improve listing ranking.
How do you rank on the first page at Walmart?
You can improve your listing ranking and appear on the first page of customer searches on Walmart if you understand Walmart's algorithm. With the right SEO tools and techniques, you can optimize your listing and improve your ranking.
Feel free to contact XpertVA for professional Walmart account management services, successful Walmart application, effective Walmart account creation, marketing, advertisement, SEO, and management services to improve your listing ranking, enabling you to improve product visibility and the overall quality of your listing to maximize sales. Book a consultation with our skilled professionals and grow your business.

Book Consultation Now